Sixteen-layer Comb Type Small Parking Tower Garage
Sixteen-layer Comb Type Small Parking Tower Garage
It is suitable for above-ground parking lots in residential areas, shopping malls, hospitals, office buildings, government agencies, etc., to install rain-proof facilities.
1. The comb-type small tower garage integrates the technology of Lift-Sliding type and vertical lifting type, and can build up to 16 floors, which greatly improves the space utilization rate.
2. The lifting method is chain or wire rope, and the maximum lifting speed can reach 50m/min, which solves the problem that ordinary lifting and transversal cannot be quickly lifted.
3. Vehicles enter and exit from the ground floor. The ground floor is separated by a parking space and an entrance and exit. Each entrance and exit is equipped with a lift to deliver the vehicle to the parking space or the ground.
4. There is one lifting channel for each group of control areas, and two entrances and exits are generally designed to share one lifting channel.
5. The ground requires different concrete foundations according to different loading cores.
6. When accessing the vehicle, enter the license plate number on the touch screen or swipe the card, and the device will automatically send the vehicle to the ground.
Suitable parking type

Car model

Extra large car

Vehicle size(mm)

Vehicle length *Vehicle width *Vehicle height

5200*1900*1550

Vehicle weight

≤2000kg

Required space

Full length of equipment

(mm)
7250

Full width of equipment

(mm)
13750

Full height of equipment

(mm)
33000

Technical Parameters

Number of Cars

N*16-17

Drive

Chain

Mode

Lifting motor=18.5kw,Transverse electric motor=0.2kw
Speed
lift0-50m/min
lift8m/min
Operation Mode
IC Card Operation+Card Operation
Control System
PLC System
Power Requirements
Three-phase Five-wire System380V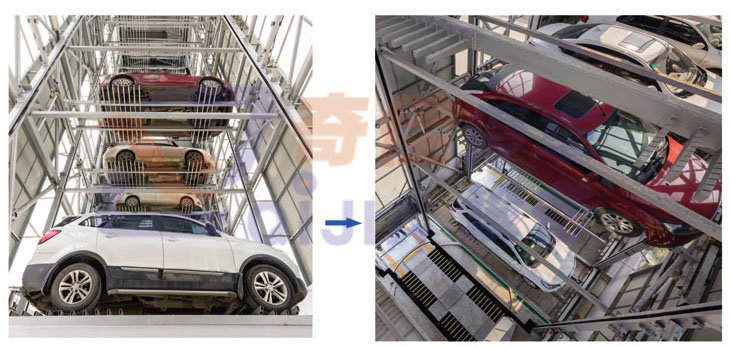 Scan the QR code to read on your phone
We could not find any corresponding parameters, please add them to the properties table
Address: West of New Xinqiao Road,South of Hengjing Road,High Tech Zone,Hengshui,Hebei,China